Sulawesi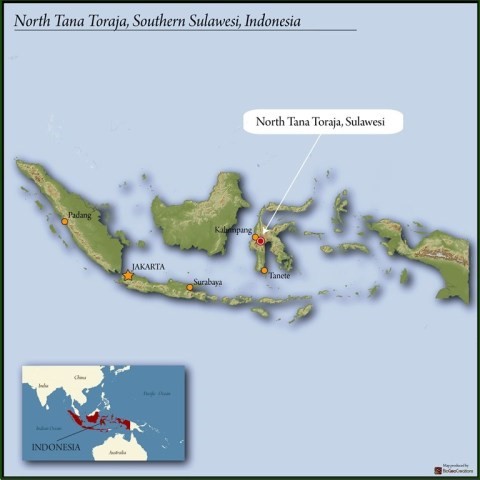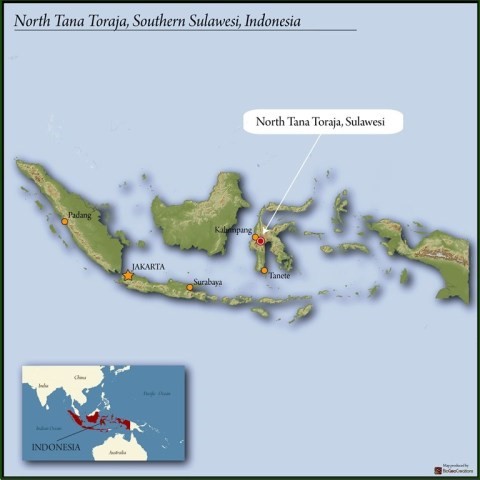 Sulawesi
Sulawesi Toraja Sapan Minanga - medium roast, notes of cedar, dark chocolate, peat moss, and molasses.
Flavor Profile: Notes of cedar, dark chocolate, peat moss, and molasses
Grower: Smallholder farmers organized around the Cooperative of Toraja Coffee Growers
Variety: Catimor, S-795, Typica
Region: Buntu Minanga and Sapan, Buntu Pepasan, Toraja Utara Regency, South Sulawesi, Indonesia
Harvest: May – September
Altitude: 1400 - 1900 masl
Soil: Andosol
Process: "Giling Basah" - Semi-washed and wet hulled after pulping, then dried in the sun.
Sulawesi Toraja Sapan Minanga Grade 1 GrainPro is sourced from family owned farms organized around the Toraja Coffee Growers Cooperative located in the central mountain region of the South Sulawesi province on Sulawesi Island (formerly known as Celebes), Indonesia. Sulawesi is a starfish shaped island, far older than the rest of the Indonesian archipelago, with a complex geography that includes thousands-foot rock walls exploding vertically out of rice paddy fields and capped in perpetual mist. Coffee is grown in this geographic wonderland at elevations that reach 2000 MASL, considered to be some of the highest growing elevations in all of Indonesia. The Toraja people who grow the coffee are an indigenous group with a traditional village lifestyle that includes houses resembling boats and animist rituals called aluk to dolo (the way of the ancestors) that are reminiscent of Santeria. In recent years the Toraja Coffee Growers Cooperative has been collaborating with an NGO called VECO, which is dedicated to improving farmer access to better agricultural practices for quality coffee production and improving coffee farm infrastructure. The partnership has helped improve quality, increase earnings from coffee sales, and is strengthening farmers' livelihoods.